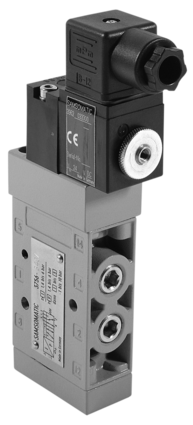 3962
PRODUCT
Solenoid valve
USAGE

On/off service
Safety-instrumented system
ATTACHMENT TO

Linear actuator, single acting
Linear actuator, double acting
Rotary actuator, double acting
Rotary actuator, single acting
EXPLOSION PROTECTION

Without certification
Type of protection "Intrinsic safety"
Type of protection "Flameproof enclosure"
COMMUNICATION

CONTROL LOOP

OPTIONAL SOLENOID VALVE

SWITCHING FUNCTION

3/2-way
5/2-way
6/2-way
5/3-way
VALVE DIAGNOSTICS

Special features
Solenoid valve
Pilot valve made of polyamide (no explosion protection), polyamide and aluminum (increased safety), or stainless steel (flameproof enclosure)
Booster valve made of aluminum or stainless steel
Attachment to linear actuators according to IEC 60534-6
Attachment to rotary actuators according to VDI/VDE 3845
Pilot valve includes solenoid and poppet valve with return spring
Booster valve consisting of poppet valve with diaphragm actuator and return spring
Spool actuated either on one side or both sides
3/2-, 5/2-, 5/3-, or 6/2-way function

24 V DC, 230 V AC, 110 V AC, or 24 V AC
Accessories
Cable socket according to DIN EN 175301-803 made of polyamide
Filter made of polyethylene
Ex d cable gland
Options
Manual override using external pushbutton, switch, or toggle switch
SIL approval
Information
Support
Certificates
Only up-to-date documents are shown in the product selector. Check the documentation site for a list of all documents available.
Show all documents for Type 3962
Pin product
Pin items on your list and contact us if you have any product-related questions.