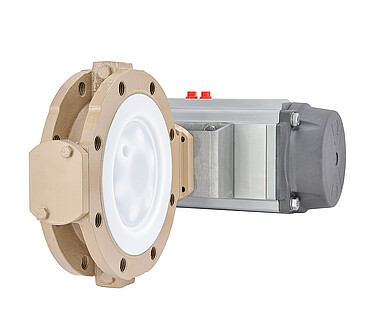 BR 10a - pneumatic - ANSI
VALVE STYLE
Butterfly valve
USAGE

Throttling service
Low-pressure service
On/off service
Hygienic service
VERSION
ANSI
MEDIUM TEMPERATURE
-50 to 200 °C / -58 to 392 °F
SUPPLY
Pneumatic
VALVE SIZE
NPS 4 to NPS 32

PRESSURE RATING
Class 150
LINING
PTFE
Special features
Consisting of double-eccentric double-flange butterfly valve and actuator
DIN ISO 5211 interface as standard
8 to 12 mm M-PTFE lining
Lug-type and wafer-type bodies
Tight shut-off in both directions
Very wide control range
Low initial breakaway torque
PTFE V-ring packing loaded by disk springs on both sides
TA Luft
FDA compliance
Leakage requirements according to DIN EN 12266, API 598 or ANSI FCI 70-2-2006
Accessories
Lever
Locking facility
Air filters
Options
Stem extension
Adjustable packing
Linings of special compounds, such as conductive PTFE
Special shaft seals for high vacuum
Butterfly valve components made of special materials
The valve BR 10a - pneumatic - ANSI can be combinated with the following actuations:
Special features:
Rotary diaphragm actuator
Max. opening angle 90 ±3°
Signal pressures from 2.5 to 6.0 bar
Temperatures from –35 to +90 °C
Torques from 15 to 5619 Nm
Powerful thrust at high stroking speed and minimum friction by using low-wear rolling diaphragms
Backlash- and maintenance-free bearings
Direction of action (fail-open/fail-close) depending on the attachment to the rotary actuator
Travel stops externally adjustable to limit the opening angle
Excellent control properties thanks to large travel
Interfaces according to DIN EN ISO 5211 and VDI/VDE 3845
Special features:
Single-acting and double-acting piston actuator
Suitable for strict requirements in chemical plants
Opening angle 90°
Signal pressures up to 10 bar
Torques from 5 to 11674 Nm
Temperatures from –40 to +80 °C
End positions adjustable within wide range (+5°/–15°)
Diagonal or parallel square drive position
Position indicator adjustable in steps of 45°
Encapsulated spring assemblies
Power transmission without clearance thanks to involute gearing
Direction of rotation reversible without requiring additional parts
Surface treatment tested by Kesternich sulfur dioxide corrosion test and salt spray test
Centering ring milled into the housing
Standardized attachment of valve accessories according to VDI/VDE 3845 or NAMUR
Simple attachment according to DIN EN ISO 5211
Blow-out-proof travel stop screws
Fast stroking speeds as standard
Information
Support
Certificates
Only up-to-date documents are shown in the product selector. Check the documentation site for a list of all documents available.